We recognize that all of our patients are unique and deserve to receive dental care that reflects their individual needs. Our experienced and talented dental team is committed to working with you and your family to create a comfortable, stress-free, and rewarding dental experience every time you visit our practice.
We are pleased to welcome you and your family, and we look forward to working with you.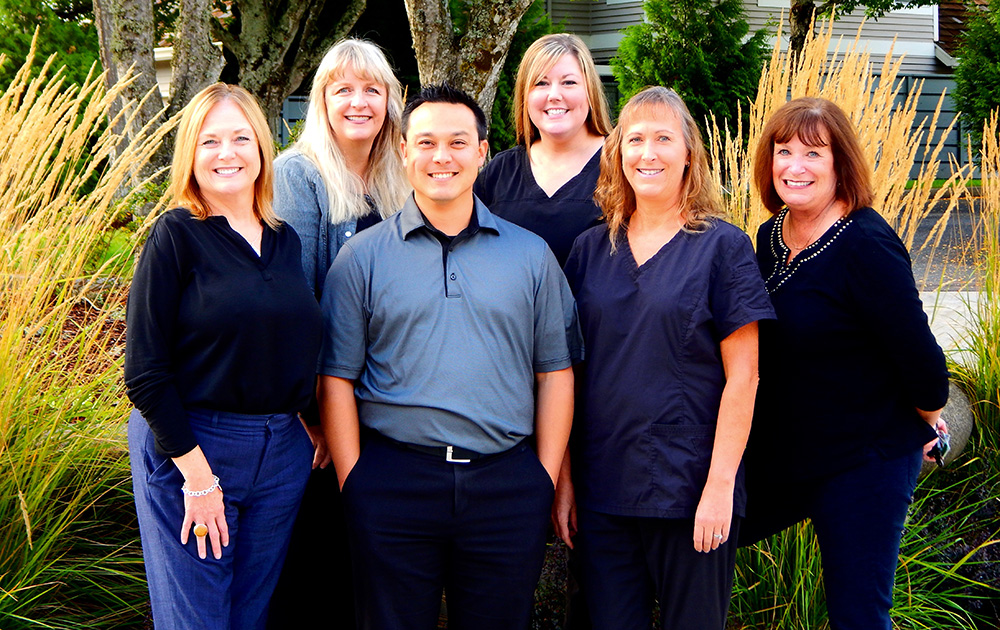 ---
Bonnie
Patient Coordinator
I work at our front desk, where I schedule appointments, plan treatments, coordinate referrals, and do various other jobs to keep the office running smoothly! Working in the dental field for 18 years, I have gotten to know our family of patients quite well. I love to see patients improve their smiles and watching the little ones grow up. Dr. Dave really is the best boss ever. He is very kind and considerate, and sometimes even funny!
My husband and I enjoy camping, the beach, riding his Harley, and spending time with our two grown children.
---
Christy
Dental Assistant
I am an EFDA-certified dental assistant, having begun my dental career in 2002. Joining Dr. Barney in 2015, I assist him at chairside, prepare our treatment areas, and anticipate the needs of our patients, hygienists, and doctor. I love helping patients feel comfortable in the chair and assisting them in their goal of attaining happy and healthy teeth. Dr. Barney is a great dentist to work for and has a good sense of humor!
I have been married to my husband Shawn for ten years. I have a six-year-old daughter, an eight-year-old son, and a 21-year-old stepson. I love to vacation in Sunriver, Oregon and explore our state with my family. Closer to home, I'm usually busy shuffling the kids around doing soccer, dance, and piano!
---
Susan
Dental Hygienist
I feel so fortunate to work with the dental team at Barney Family dental office. I began my career in 1984 as a dental assistant and continued my education to become a dental hygienist. I still continuously strive to improve my dental skills by being part of study clubs and taking dental education classes. Part of this office since 1990, I've built some great relationships with our patients. I enjoy providing them with the education they need and making feel comfortable and at ease at the dental office.
Outside work, I love to spend time with family and friends. I also enjoy photography, hiking, and traveling.
---
Theresa
Dental Hygienist
I earned my Associate's degree in Dental Hygiene from Portland Community College in 1998 and have worked in this practice for my entire career. Our entire office shares the same philosophy of providing the most up to date, professional care for our patients, while at the same time creating a friendly, welcoming atmosphere. For my part, I provide oral hygiene education, dental cleanings, and periodontal therapy to treat gum disease. My goal is to provide a relaxed and safe environment to allow patients to feel comfortable and at ease during their dental visits.
I am married with one daughter. I am an encaustic artist and belong to various galleries and organizations in Washington County where I show my art. When I am not painting, I like to spend my leisure time golfing with my husband.
---
Tinia
Financial Coordinator
I attended PCC, earning my Dental Laboratory Tech Certification/Associate's degree in 1982. I worked as a dental assistant for many years before transitioning to the administrative side of dentistry. As our financial coordinator, I process our patients' insurance, post payments, and present treatment plans. I enjoy spending my days interacting with our patients, doing my best to help make what could be a very stressful visit to the dentist a calmer experience.
I have been married to my husband Greg for 32 years and we have four boys and two adorable doggies. Our family enjoys golfing, hiking, boating, and camping. We just took our annual family trip to Cove Palisades!